Over the past 12 years, the United States has been in the top-five performing developed markets only four times and no country has consistently led the world.  In 2014, America's Gross Domestic Product accounted for just under 20% of the total domestic product for all nations, according to the Wold Bank.  A portfolio that ignores the foreign markets misses many opportunities and forgoes the ability to protect from a potential decline in the purchasing power of the U.S. dollar.
MSCI Index Performance for Developed Markets as of end of year (including all capitalizations) measured in U.S. Dollars (Source: MSCI)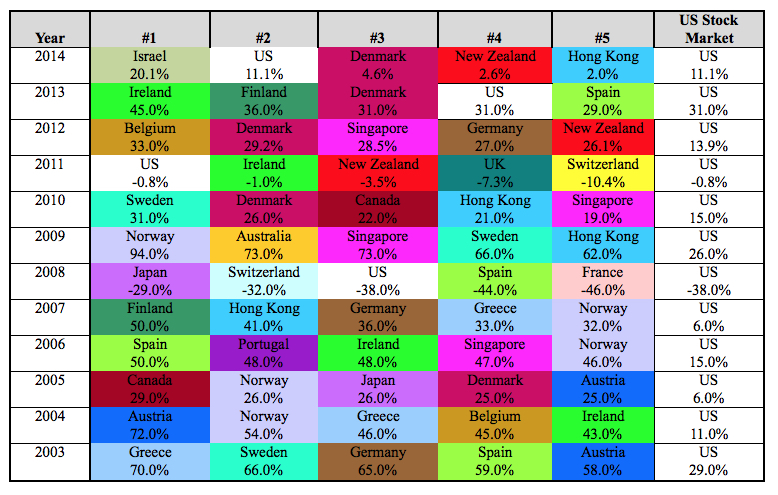 By starting with a global, macroeconomic perspective and working our way down, we are able to focus on what we believe are the most appropriate investment options based on our forward-looking views of economic and market conditions, while maintaining the benefits of risk reduction through diversification.  Through our research, plus the extensive work of hundreds of specialized analysts and portfolio managers at the funds we follow, these are a few of the factors we assess:
Country or Region: United States, Chile, China, Brazil, Emerging Asian, Emerging EU …
Demographics:  Population trends, urbanization trends, immigration, education…
Economics:  GDP trends, household income and savings, private and public debt…
Sector: Industrial, Materials, Government, Energy, Financials, Consumer Staples…
Capitalization:  Giant Cap, Large Cap, Mid Cap, Small Cap, Micro Cap…
Valuation:  Price-to-earnings, Price-to-book, Dividend Yield, Bond Yield ..
Currency: Declining, Appreciating …
Timeframe: Long-term or short-term opportunity, situational or fundamental?